Assisted living for smokers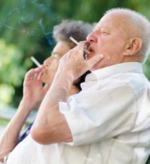 Assisted living facilities welcome seniors of different ages and backgrounds, taking their particularities into consideration. For instance, seniors who smoke can move into an assisted living facility and use designated areas for smoking. For seniors who would like to give up smoking, there is an opition of being assisted to give up this unhealthy habit and improve the overall health. Aside from the adapted living units and healthy meal plans, seniors receive specialized care and assistance with common ADLs, such as bathing, eating, or dressing. Each senoir living community has various services and amenities available to offer the best possible quality of life.



For help with finding Assisted Living call today
Who answers?


To be accepted into the desired center, seniors must meet the minimum age limit, as well as other specific guidelines. As you will find in this article, the cost of assisted living varies from one state to the other, and from one community to the other. In most cases, the family members are the ones to handle the research process, looking after their loved ones. It is recommended to check out more than one facility, as you need to be absolutely certain that the chosen option is suited to the senior in question.

What is assisted living?

Assisted living is one of the most popular long-term care solutions for seniors who still maintain some of their independence and have a fairly good health. However, as they might need assistance with everyday tasks, moving into assisted living might be the right thing to do. While smoking is not allowed indoors, there are facilities that accept smokers, offering designated areas for such habits. At the same time, these centers have quit-smoking programs, helping seniors get back to a healthy place. They also provide close monitoring, so as to prevent potential complications associated with smoking.

Within assisted living communities, seniors benefit from support and assistance as needed. As smoking is a big part of their lives, its influence is always considered. For instance, many smokers suffer from breathing problems. This is the reason why the staff will monitor them from up close, ensuring oxygen as needed. Medical care is available in assisted living, but you should keep in mind that its availability is rather limited. Such services are often ensured by third-party providers, at extra cost. It is recommended to inquire about such matters before committing to a particular community.
Assisted living facilities for seniors who smoke
Each assisted living facility has targeted services and amenities available for its residents. The list of general services might include the following: general maintenance, housekeeping, Internet and telephone access, meal planning and preparation, medication administration, errand running, etc. Additional services are available, depending on each center, including smoking cessation programs, diabetes testing, hygiene monitoring, and fall prevention. As seniors can suffer from various chronic conditions, it should come as no surprise that most facilities of this kind offer diverse therapies. The list of options includes speech therapy, physical therapy, cognitive behavioral therapy, occupational therapy, and group therapy.

The amenities available are just as diverse as the services promised. Depending on their personal preference, seniors can live in private or semi-private units. As mentioned above, they are not allowed to smoke inside the apartments, being instructed to use only the designated areas. All the units have a functional emergency response system, which can be used in case of major health events. For seniors who are also dealing with mobility issues, there are plenty of safety features available, such as support rails. The bathrooms have their own safety elements, such as non-slip mats, in order to prevent common accidents such as slipping and falling. Seniors only receive assistance when they are unable to complete a particular task on their own.

Within the supportive environment of an assisted living community, seniors are encouraged to focus on their health. They have access to healthy meal choices and snacks, not to mention the amenities for physical health, such as fitness centers, swimming pools, or yoga studios. Group activities are organized on a regular basis and seniors also have access to art studios, game rooms, and reading rooms. Of course, the daily routine also includes education on smoking cessation, with seniors being encouraged to participate in the programs organized by the respective community. Each community might have its own approach when it comes to such matters, but they also share a common goal, ensuring the best possible quality of life for the senior in question.

What are the requirements to be accepted?

Each assisted living community establishes its own requirements for acceptance, but they all follow the same holistic approach to care. It is common knowledge that the minimum acceptance age varies between 55 and 62, even though some variations might be found. Second, seniors must submit a detailed report of their health history, including information about smoking and the associated impairments. The specialists of the respective center will require these medical records in order to establish whether smoking has affected the individual's ability to function and his/her level of independence. Pre-existing conditions should be mentioned, as well as the need for specific treatments, as most assisted living facilities only have limited healthcare available.

Leaving aside the age and health requirements, seniors must also consider the cost of assisted living. They have to provide proof of having a regular income, as well as any other financing sources, should their income not suffice. The admission is always considered from the perspective of individual care requirements, as most communities offer assistance for only a limited number of ADLs. The more help one requires, the higher the chance of being directed towards other long-term care solutions. Even though smokers are accepted into assisted living facilities, there are other specific reasons for which they might be refused. The list of potential refusal reasons includes: severe cognitive impairment, confusion and risk of wandering, extensive medical needs, need for long-term skilled nursing care.

Assisted living remains a suitable option for seniors who require only minimal assistance with everyday tasks. The same goes for the skilled nursing care, rehabilitation, or medication management. Smokers might be monitored to prevent potential accidents, but 24/7 cannot be guaranteed. Seniors who require memory care will not be accepted either, as well as those who suffer from infectious conditions or those who require treatments that the respective facility cannot provide. Before applying for a spot, it is for the best to check out the acceptance guidelines, especially with regard to smoking.
Cost of assisted living for seniors who smoke
You can expect the cost of assisted living to vary in accordance with its location and type. There are significative differences between states, not to mention from one facility to the other. Other factors might influence the overall costs, including the living unit type, level of care required, assistance with ADLs, services and amenities, health status (including smoking-related). You should keep in mind that the respective costs cover not only housing and utilities, but also the scheduled activities, general maintenance, transportation, housekeeping, laundry service, and meals.

The monthly costs of most assisted living facilities that welcome seniors who smoke vary between $3,000 and $4,500. This automatically translates into an annual cost of about $54,000. It is clear that luxury assisted living facilities have higher fees, varying between $7,000 and $9,000 per month. The states with the most expensive facilities of this kind include Alaska, District of Columbia, Massachusetts, New Hampshire and New Jersey. As for the states with affordable communities, these are: Mississippi, North Dakota, South Dakota, Missouri, and Alabama.

Residents have the opportunity to cover the respective costs each month or pay for an entire year in advance. It is worth remembering the fees to be covered vary in accordance with the level of care offered, as well as the smoking-related impairments and their severity. The more assistance one requires with everyday tasks, the higher the associated costs are going to be. Certain services and therapies are available at extra cost, so you will have to calculate your budget accordingly. For instance, medication management, physical therapy, and occupational therapy are often ensured by third parties, with the senior covering the respective costs. As most facilities offer tiered pricing, it is for the best to be aware of the differences between each tier. If possible, you should find a facility with an all-inclusive pricing model, as there will be no additional charges to worry about.
How are smokers supported in assisted living?
Assisted living facilities accept seniors who are chronic smokers. However, as long as they abide to the set rules, seniors are allowed to keep smoking. For instance, they may smoke in designated outdoor areas. In most cases, residents are not allowed to smoke on the balconies of their units. Assisted living facilities that allow smoking have specific policies on how to help a resident who wants to smoke but suffers from mobility issues. One must also consider the safety risks, as seniors who suffer from cognitive decline might set a fire just from one single cigarette. This is the reason why the designated areas often have noncombustible ashtrays.

Seniors are educated with regard to fire safety rules, with the personnel explaining about the dangers associated with indoor smoking. Fire drills are organized on a regular basis and there is an evacuation plan that the staff will follow in case of emergencies. As a general rule, assisted living facilities will not accept seniors who might not be able to evacuate on their own in case of a fire. According to federal regulations, these communities have both sprinkler systems and smoke alarms installed on the premises. These are verified at regular intervals.

Most assisted living communities have smoking cessation programs available, acknowledging that choosing to quit smoking is a major change to go through, especially as a senior. They recognize the stress of having to adjust to a new living environment, doing their best to minimize the emotional impact. All the programs are designed with consideration to the resident's needs. This is the reason why each program is available either at individual level or as a group, so one can choose the option that feels most comfortable. Some communities encourage seniors to use e-cigarette instead of regular ones, as these are safer with regard to a live fire. However, further studies are required to confirm the long-term effects of the substances used for these.

Safety, a top priority within assisted living centers

The safety of all the residents is one of the top priorities of the personnel working within assisted living communities. This is even more important when it comes to seniors who smoke, given the obvious risks of live fires and other injuries, but also the potential health complications associated with such habits. Assisted living facilities have trained staff, people who will take all the necessary measures to ensure the residents are safe and secure at all times.

On the one hand, seniors might be supervised while smoking, in order to ensure that everything unfolds without problems. They might be assisted to reach the designated smoking area, especially if they are dealing with mobility issues. An emergency plan might be designed, in order to handle accident burns and other potential injuries on the spot. On the other hand, it is a known fact that smoking is associated with chronic health issues, including breathing difficulties, heart disease, and jaundice. This is the reason why seniors are encouraged to quit smoking and take part in the smoking cessation programs.

As a smoking senior, it can be difficult to leave your home and move into assisted living, particularly if you are not the flexible kind. However, you should be happy to know that there are many facilities that accept seniors who smoke nowadays, helping them give up this habit. Before committing to a particular policy, be sure to review their policy on smoking and other acceptance guidelines. Inquire about the designated areas for smoking and other particularities related to this habit, including how safety is ensured, including when it comes to emergencies.

When should assisted living be considered?

Seniors are looked after by their family, no matter how severe their decline might be. Unfortunately, the burden of caring for a smoking senior can turn out to be too heavy. Sooner or later, most carers begin to consider alternative solutions. As a smoking senior, one of the options is to search for a facility that welcomes smokers. If you also require assistance with the activities of daily living, senior living communities may be considered. As a resident, you will be helped with tasks such as dressing, eating, or bathing. In addition, you will benefit from limited healthcare, which will guarantee that chronic conditions do not become worse.

Living within an assisted living also brings the benefit of socialization. Many smoking seniors are withdrawn, fearing what other seniors might have to say about their habit. Unfortunately, social isolation can lead to depression and anxiety. Once they are integrated into a community that accepts them as they are, smoking and all, seniors report an improved mindset. Such communities might offer smoking cessation programs, but they do not judge seniors for having such habits. They are rather trying to educate them on the potential complications of smoking, so they might reach the decision of quitting on their own.

Assessment process

If you are planning on moving into an assisted living community, you should prepare yourself to undergo an initial assessment. This is required to establish whether the respective facility is suited for you or not. The assessment focuses on one's physical and mental health, history of smoking and associated impairments, co-existing conditions, level of independence, ability to perform self-care activities and any associated limitations. The information obtained during the assessment will be used to create a customized care plan, which will be updated at regular intervals, in accordance with any health changes that have occurred.

The smoking habit represents one of the most important aspects to be considered. It is essential to establish how much this habit and its potential complications can affect the senior's ability to handle everyday tasks and the general ability to function. The three levels to be used for this include "independent", "required help or assistance", and "unable to perform the task at all". Some of the activities that might be evaluated include: managing money, taking medicine, preparing meals and eating, shopping, getting to a certain place, using the phone, bathing, walking and transfers, grooming, dressing, etc. All of these are staples of independent living, so it is essential to determine how much assistance might be necessary.

The experts of each assisted living facility pay attention to how one's habits influence the daily living. They are interested in the smoking-related impairments and how these might lead to further health complications, paying attention to both activity limitations and participation restrictions. Of course, specific measures are taken to minimize the severity of these impairments and their effect over the daily life. Should there be activity limitations present, assistance will be offered, so that seniors can complete the desired tasks. Last, but not least, the daily routine will include plenty of activities to guarantee the complete or partial participation.

A short overview of the smoking policy in assisted living centers

The policy on smoking in assisted living facilities can vary depending on the specific facility and its rules. While some assisted living communities may allow smoking in designated outdoor areas or in private living units, many are moving towards becoming smoke-free environments due to health and safety concerns.

Health risks associated with smoking, such as secondhand smoke exposure to other residents and staff, fire hazards, and potential conflicts among residents with differing preferences, have led many assisted living facilities to implement smoke-free policies. These policies aim to create a healthier and more comfortable living environment for all residents.

It's important for individuals who are considering moving into an assisted living facility and are smokers to inquire about the facility's smoking policy during their research and decision-making process. If smoking is a significant factor in their lifestyle, they should look for facilities that align with their preferences. Additionally, for those who wish to quit smoking, some facilities may offer resources or support programs to help residents transition to a smoke-free lifestyle.

As you might have figured out, assisted living communities have specific policies whereas smoking is concerned. Very few assisted living facilities allow seniors to smoke indoors or even on the balconies of the living units, preferring to stick with the outdoor designated areas. These are usually located near the residential buildings or common areas, being reached on foot. Naturally, seniors who are in a wheelchair benefit from full accessibility, being able to reach the respective area without any assistance. The outdoor areas established for smoking have a covering to protect from weather elements, and they are monitored by cameras.

It is worth knowing that the smoking policy is included within the general guidelines of each assisted living community. You might also find details on the smoking cessation programs, but this is not always the case. Should the senior in question also deal with cognitive decline, the staff will monitor him/her while smoking, as previously stated. Seniors are also educated to respect their peers, smoking only in the designated areas. This is because second-hand smoke has been associated with health complications as well.

Many assisted living communities also have what is known as a smoking safety screening. This is repeated at regular intervals, in order to identify any potential health issues associated with smoking. They are also meant to determine changes in cognition, which might prevent a senior from acting as a safe smoker.

Benefits of assisted living

When it comes to assisted living, smoking seniors have a lot of benefits to incur. First and foremost, these communities offer adapted room and board, meant to minimize the consequences of physiological aging. Residents have access to meal plans, as well as various general services and amenities, which guarantee a comfortable routine. They also benefit from personal care services and regular assessments, with access to smoking cessation programs. The staff educates them on the dangers of chronic smoking, particularly in old age. When needed, they receive assistance with common ADLs, such as moving, eating, dressing, grooming, and bathing.

All the spaces within assisted living communities are safe and accessible. The living units are designed to meet the needs of aging seniors, being equipped with fully functional emergency response systems. As previous mentioned, smoking seniors have access to designated areas where they can smoke, these being equipped with fire alarms and sprinklers in case of accidents. Trips outside the campus are organized on a regular basis and various therapies are available for those in need. Most seniors do not require too much time to adjust to the new living environment, taking delight in their daily routine.

Who answers?
Seniors who smoke may have specific questions and concerns about assisted living facilities that relate to their smoking habits. Some common questions they might ask include:

Is smoking allowed in the facility?

If smoking is allowed, are there designated smoking areas?

Are there any restrictions on smoking, such as only allowing smoking outdoors or in private living units?

Are there any additional fees or charges associated with smoking or smoking-related maintenance?

How does the facility manage the health and safety concerns related to smoking?

Are there any support programs available for residents who want to quit smoking?

How does the facility address potential conflicts between smokers and non-smokers?

What is the policy on smoking-related odors and how are ventilation and air quality maintained?

Are there any local regulations or laws that impact smoking within the facility?

Are there alternatives or resources available for residents who wish to engage in smoke-free activities or transition to a smoke-free lifestyle?

It's important for seniors to ask these questions and thoroughly discuss their smoking preferences with the assisted living facility they are considering. This will help them make an informed decision that aligns with their lifestyle and ensures a comfortable living environment for both themselves and other residents.

Life as a smoking senior can present its own set of challenges, many of which can be eased through assisted living. If you or someone you love is in need of such specialized care, you can begin researching the facilities in your area that welcome seniors who smoke. Of course, you can extend your search gradually, until you have a list of suitable options.

Assisted living services

How to pay for assisted living

What to know about luxury assisted living

Difference between assisted living and nursing home

Assisted living for vision-impaired seniors

Assisted living for hearing-impaired seniors

Assisted living for retirees with Alzheimer's

Assisted living for retirees with dementia

Assisted living for retirees with diabetes

Assisted living for disabled seniors

Assisted living centers for seniors with mobility issues

Assisted living for retirees with Parkinsons

Assisted living facilities for overweight seniors

Assisted living centers for elderly couples

Assisted living for seniors with pets

Memory care for retirees with Alzheimer

Memory care for retirees with dementia

Memory care explained

Continuing Care Retirement Communities