Stair lifts for seniors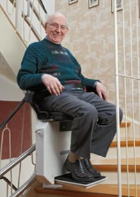 No one wants to think about aging, but the truth is that there will come a day where you will need a bit of help moving around. If your home has stairs, you might consider investing in a motorized stair lift. This device will eliminate the trouble associated with the stairs, offering a comfortable and secure alternative. As there are many different models available, you will have to look around until you would have found the one that fits your needs the best. In order to help you out, we have gathered all the information you might need to know on stair lift for seniors. If you are interested in this particular topic, do not hesitate to keep on reading.
What is a stair lift?
As mentioned above, the stair lift is a motorized device, meant to help older adults navigate the stairs in their home comfortably. All they have to is seat themselves on the chair, activating the motor accordingly. Depending on the model, the chair might move in a straight line or navigate different bends. A thorough research will help you identify the best chair, in accordance with both your living situation and mobility needs. Modern-generation stair lifts are made from aluminum or steel, and you can control them with the buttons, which are usually located on the armrest. Some models have a remote control for easier use. Should a power cut occur, you will be happy to know that the device has a battery back-up, which will activate automatically.
Stair lift prices
The market is full of choices when it comes to stair lifts, so it makes sense to look around before deciding on a particular model. In shopping for stair lifts, there will be several factors to take into consideration, your unique needs in particular, as well as the type of staircase in your home. As you will see for yourself, the price range for a stair lift varies between $2,000 and $7,000, should you go with the straight-rail version. On the other hand, if you prefer a curved-rail stair lift, the price varies between $7,000 and $15,000. Last, but not least, the outdoor stair lift has an average price of $5,000.


The more you plan on customizing the stair lift, the higher the overall cost is going to be. In calculating your budget, be sure to take into account the cost of installation or removal. Even a simple thing, such as the length of the stairway, can influence the associated costs. It is clear that long stair lifts are more expensive, in comparison to the short ones. The same comparison can be made for straight and curved versions. This is the reason for a long and curved staircase will require a more expensive chair. Keep in mind that curved stair lifts require two separate motors to function, one to physically move the chair and the other to adjust its height, as it travels up and down the stairs.
Different types of stair lifts for seniors
Stair lifts can make a genuine difference whereas the overall quality of life is concerned. It can help seniors eliminate the effort of climbing the stairs, not to mention the obvious risk of falls. The three main options available are the straight rail stair lift, the curved rail stair lift, and the outdoor stair lift. It is worth mentioning that the first two versions are not resistant to water, temperature, and dust, as opposed to the last.

Each type of chair serves its own purpose, with the straight version being recommended for stairs that do not involve turns. On the other hand, the curved version can change direction as needed, taking turns or following curves. The outdoor version is clearly suitable for the stairs located outside the home. If you are already using a wheelchair, there are heavy-duty stair lifts that can carry you as such.

The straight rail stair lift represents one of the most common options available and certainly one of the most affordable. It can be used with straight stairs, helping seniors move up and down the stairs. Given the simplicity of the device, it should come as no surprise that the installation is rather simple. The curved rail stair lift is another option, suitable for stairways that follow a curve. As opposed to the straight version, these have to be customized, in accordance with your staircase. The installation is much more complex, thus requiring more time. Usually, before the stair lift is installed, you will have to provide the manufacturer with photos and measurements. Modular curved rails have a faster installation process, so they might be considered as an option.

The outdoor stair lift is recommended for those who have stairs outside the home. It might be installed in outdoor spaces, such as docks, patios, or decks. Unlike those suitable for indoor use, this stair lift is made to withstand extreme weather, including rain, salty air, and freezing temperatures.
Stair lift features
Each stair lift has its own benefits to offer and it's essential to be aware of all the different features, so that you can choose the one that fits your situation the most. Naturally, a dependable device is one that blends functionality with modern design. You might also be on the lookout for industry-leading brands that offer the advantage of world-class engineering, being able to guarantee a strong, long-term guarantee for their products.

One of the most important features to be on the lookout for regards safety. You should make sure that the stair lift comes with a seat belt, as well as safety sensors. The seat belt should keep you secure in your seat, so as no accidents will occur. As for the safety sensors, these are meant to identify any obstructions. Many companies offer customizable devices, so that you benefit from the most comfortable sitting experience. Usually, the chairs are equipped with generous padding. Both the seat height and the armrest width can be adjusted as desired.

You might also want to check if the seat swivels, as this can increase the safety level while you are in the chair. Thanks to this feature, you will be able to rotate the chair in the desired direction before exiting. It is clear that facing the landing is safer than the open stair, with a reduced risk of accidents. Another interesting feature is the folding footrest, as this will ensure that the stair lift does not occupy unnecessary space. A power option might be available, with the footrest folding automatically, as soon as the seat is lifted.

In terms of materials, it is worth mentioning that most stair lifts are made of aluminum or steel. The armrests have buttons for controls as mentioned, but you might also purchase a remote control to facilitate everyday use. As these chairs function with electricity, most of them have a battery back-up, which activates automatically as previously stated. This feature is quite useful, ensuring that you will be able to use your chair, including in case of a power cut.

If you are worried about the chair not being able to support your weight, keep in mind that there are devices out there recommended for those who are overweight. The diagnostic display is an interesting feature, offering information on your movements. The same goes for the automatic hinged rail option. While safety sensors are meant to stop the stair lift, should an obstruction be detected, there are devices that have a seat load sensor. This will detect when the senior in question has occupied the chair, giving the device the signal that it is safe to operate. For those of you who are interested in outdoor versions, be sure to choose one with insulated electric components and waterproof seats.

Let's talk a minute about the power supply, as this is a rather important subject. Stair lifts function with batteries, which charge when the respective device is docked. There might be two charging points, one at the bottom and another at the top. You might also hardwire the chair to benefit from continuous power, but this will add to the overall cost. If you are looking to save space, you might opt for a chair with retractable elements. These can include the seats, footrests, and armrests. For those looking for an added level of safety, you might consider a stair lift that has harnesses instead of seat belts. Keep in mind that the seats can be customized as desired, including with adjustable height. Various sensors can be added to increase its overall functionality.
How to choose a stair lift
It can be difficult to choose a particular stair lift, as there are so many different models available, each with its own set of features. The first thing to consider is the type of stair lift, choosing one of the three main options, meaning the straight rail, curved rail, or outdoor stair lift. Second, you will have to think about the configuration of your home, the stairway in particular. Do you have a narrow or large stairway? Is it straight or curved? You might also consider its length, as it will determine the distance for the chair to travel.

Most manufacturers allow for stair lifts to be customized, taking into account particularities such as the level of mobility, height, and weight. Of course, the customization possibilities also depend on the available budget. It might be a good idea to check whether the installation is included in the overall cost of the stair lift or not.

As experts are best suited to tell you which type of stair lift works best, with consideration to your home configuration, you might contact different manufacturers or dealers, inquiring about the possibility of a free in-home consultation. During this initial assessment, you will have the chance to ask as many questions as desired, receiving an accurate estimate (including in terms of price). Thanks to the augmented reality imaging, you might be able to see how the stair lift will look in your home, before the actual assessment. If you are going for the customized version, you might be able to determine which features you want, until you are 100% satisfied with the final version.

Once the stair lift has been installed, the technician will take the time to explain how it should be used and what precautions you should take to ensure your safety. For instance, you should always wear the seat belt and keep your feet on the footrest.
Recommended uses for stair lifts
Over the course of time, seniors find it increasingly difficult to navigate the stairs outside or inside their home. The limited mobility is associated with a significant risk of accidents, which can lead to further disabilities. If you are already using a cane or you are taking a considerable amount of time to climb up and down the stairs, you should definitely consider using a stair lift. This device can help those with limited mobility access the different levels in their home, without depending on another person. It is clear that the stair lift can also be of great use to seniors with prosthetic joints.
Overview of the stair lift installation
As you might expect, installing a stair lift is a complex process, one which should be handled by an experienced technician. It might be tempting to save money and choose an amateur, but you might discover that the stair lift was not properly installed or worse, that it doesn't actually fit your staircase. Before proceeding with the installation, the technician will want to know a few details about your home configuration. These might regard the structural integrity of the staircase, the availability of proper electrical requirements, permit allowance, testing of the installed equipment, and long-term maintenance. The technician will then visit the premise for an initial assessment. The stair lift will be installed as agreed, being ready for use.
What else should I know about stair lifts?
For many seniors, the cost of the stair lift represents one of the main points of concern. If you are dealing with a strict budget, you might contact your insurance provider and ask whether your policy covers such devices. Generally speaking, a health insurance plan may offer such coverage if you are disabled or injured. Veterans might also be eligible, either for partial or full coverage. It might also interest you to know that manufacturers or dealers often provide financing plans, with affordable payments.

If both you and your spouse want to use the stair lift, you should choose a device that comes with two remote controls. In this way, you might be able to call for the lift, using it exactly when needed. Should one of you be overweight, be sure to opt for a heavy-duty device, preferably installed by a trained technician. As for the stair lifts that are best suited for the outdoors, you should choose one with waterproof elements, including when it comes to the covers and foot mats. As previously mentioned, the electrical parts should be completed insulated.

The platform stair lift remains a suitable choice for wheelchair users. However, you have to keep in mind that it occupies a lot more space than a regular stair lift. You will have to plan the configuration accordingly, so that there is enough room for the wheelchair to be carried up the stairs. It is worth mentioning that such chairs require added power, in contrast to the traditional versions. Due to their specificity, they are bound to cost more, so you will have to calculate your budget to make sure you can afford it.

As each home has its own configuration, it makes sense to opt for a customized stair lift. The technician will analyze your stairway, recommending the curved or straight version. Keep in mind that stair lifts are not wall mounted, which means that they do not require a wall for them to be anchored. Regardless of the model, the biggest concern regards the width of the stairs. For the chair to function without difficulties, there needs to be a minimum amount of space. If space is an issue, you should choose a device with a foldable seat. Some might turn around the corner upon reaching the top or bottom of the stairway, representing a good space-saving solution.

Should it happen that you will no longer need a stair lift, you should contact the same company that handled the installation. Such things are best left in the hands of trained technicians. Should you or one of your loved ones attempt to remove the stair lift, you might end up damaging the staircase. Returning to the installation, it is normal to ask yourself whether the stair lift can be fitted to any staircase. The answer would be yes, including when it comes to curved staircases. As long as the staircase has a minimum width to allow for the chair to travel up and down the stairs, the installation should occur without issues. If you are worried about the electricity costs, you should relax, as stair lifts are not used every moment of the day. The relatively low usage equals a moderate energy consumption, which should not affect your budget.
Do I need a stair lift?
In trying to decide whether you need a stair lift or not, you will have to think not only about the present, but also the future. For most seniors, a stair lift can address both current and future mobility issues, reducing the risk of accidents. As an older adult who has decided to remain in your home, for as long as it is possible, having a stair lift can eliminate potential risks. For instance, you might use it to avoid falls, thus being able to live in your home for many years to come. If you have chronic health problems or prosthetic joints, the stair lift might prevent the further strain on your body, reducing the risk of complications.

Many seniors choose a stair lift for preventative purposes or to address permanent mobility issues. However, for some of them, the stair lift might offer the needed respite in case of an injury, fall, or debilitating diagnosis. Let's say you have broken your hip, dealing with limited mobility. During your recovery, the stair lift can help you heal and prevent unnecessary complications.
Choosing a particular company
There are many reputable companies on the market that sell stair lifts, so it is only normal to research your options. First of all, you should decide the price range you feel comfortable with. Check out the companies that offer financing options and ask about the different types of stair lifts they have available. Decide whether you need an indoor or outdoor stair lift and be sure to ask how many years of warranty the company can offer. You might also want to inquire about the safety features incorporated into the product, if the stair lift requires professional installation, and how power outages are handled. Reputed companies have both battery-operated and electrical versions, and you can check out the advantages each has to offer.

It is normal for you to want to remain in your home as you reach senior age. However, you might be dealing with limited mobility, fearing falls or other accidents, but wanting to lead an independent lifestyle nonetheless. This is the main reason why you should consider purchasing a stair lift. Regardless of the preferred brand, you ought to select a stair lift that speaks to your needs and home configuration. Certain features, such as the power folding footrest, folding rail, and swivel seat, can increase both the level of comfort and safety.


Products for seniors
Find a Dentist For Seniors
Medicare Supplement Insurance
Cell Phones For The Elderly
Hearing Aids For The Elderly
Adjustable Beds For The Elderly
Medical Alert Systems For The Elderly
Mobility Scooters For The Elderly
Walk-in Tub For The Elderly
Electric Wheelchairs For The Elderly
Best Indoor Exercise Bikes For The Elderly
Lightweight Transport Wheelchairs For The Elderly
Post Surgery Pillows For The Elderly
Best Walkers For The Elderly
Stand Assist For The Elderly
Bed Rails For The Elderly
Toilet Safety Rails For The Elderly
Best Adult Diapers For Men
Best Adult Diapers For Women
Caregiver resources
How to care for seniors with Alzheimer's disease
How to care for elderly with diabetes
How to care for elderly with heart disease
Helping elderly people post heart surgery
How to care for elderly with Parkinson's disease
Caring for seniors with hearing loss
Caring for seniors with limited mobility
Caring for seniors with vision loss