Easy to use cell phones for seniors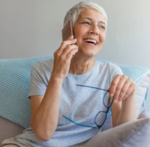 We live in the age of instant communication, being used to staying connected to our loved ones. For seniors, a cell phone can also mean a lower risk of loneliness, with a positive effect over one's mental state. A good cell phone can help people of older age stay in touch with their family and friends, but the essential thing is to choose one that corresponds to their needs. Recognizing the challenges associated with old age, manufacturers now provide cell phones designed especially for seniors. These are easy to use and have senior-friendly features, including the large buttons, simple navigation, and voice commands.
Easyfone Prime-A6 4G Big Button Cell Phone for seniors
The Easyfone Prime-A6 4G Big Button Cell Phone is an ideal choice for seniors seeking a simple yet functional communication device that addresses their unique needs. This cell phone is thoughtfully designed with a focus on accessibility and ease of use, making it an excellent option for seniors who may not be accustomed to modern technology.



#ad




Easyfone Prime-A6 4G Big Button Cell Phone for Seniors



Extra big buttons
Loud and clear volume. Easy to hear
SOS button
M4/T4 Hearing Aid compatible
Easy to charge
Designed for seniors
Affordable Cell Phone
The Easyfone Prime-A6 4G Big Button Cell Phone is an excellent choice for seniors seeking a simplified and user-friendly mobile device. With its large, well-spaced buttons and straightforward interface, this phone is designed to meet the specific needs of seniors, ensuring ease of use and accessibility. The Prime-A6 offers 4G connectivity, allowing for quick calls, messaging, and emergency communication. It also features an SOS button, which, when pressed, can alert pre-programmed contacts in case of an emergency. The phone's loud and clear sound quality, amplified volume, and hearing aid compatibility make it ideal for seniors with hearing impairments. Additionally, it comes with a powerful flashlight, a camera, and dual SIM card support. The Easyfone Prime-A6 prioritizes safety, simplicity, and reliability, making it a valuable communication tool for seniors who prefer a no-frills, easy-to-operate mobile phone.

The standout feature of the Easyfone Prime-A6 is its big button design, which caters to seniors with reduced dexterity or visual impairments. The large, clearly labeled buttons are easy to press, reducing the chances of accidental key presses and making dialing or texting a more straightforward process. Additionally, the high-contrast display with large text ensures that seniors can read messages, view contacts, and access features without straining their eyes.

The phone's simplicity extends to its user interface, offering a clutter-free experience that avoids overwhelming seniors with unnecessary features. The menu layout is straightforward, allowing seniors to access essential functions such as calling, texting, and emergency contacts without navigating through complicated settings. The built-in SOS button is a critical safety feature that seniors can easily press in case of emergencies, notifying predefined contacts or emergency services. Furthermore, the phone's loud and clear sound quality contributes to seamless communication, ensuring that seniors can hear conversations without difficulty.

The Easyfone Prime-A6 also supports 4G connectivity, enabling seniors to stay connected with friends and family through calls and text messages. The enhanced battery life ensures that the phone remains operational for extended periods, reducing the frequency of charging. Overall, the Easyfone Prime-A6 4G Big Button Cell Phone offers seniors a user-friendly and functional communication device that caters to their specific needs, fostering enhanced connectivity and peace of mind.
What to look for when choosing a cell phone for seniors?
When choosing a cell phone for a senior, it's essential to prioritize features that enhance usability, accessibility, and safety. Here are some key features to consider:

Simplified Interface: Look for a phone with a user-friendly interface that has large, easy-to-read icons and text. A simple menu layout helps seniors navigate the phone more comfortably.

Large Display: A larger screen size makes it easier for seniors to read messages, dial numbers, and use apps without straining their eyes.

Big Buttons: Phones with larger and well-spaced buttons are more comfortable for seniors to press, reducing the risk of dialing the wrong number.

Amplified Sound: A phone with adjustable volume settings and clear sound quality is crucial for seniors with hearing difficulties.

Hearing Aid Compatibility: Opt for a phone that is compatible with hearing aids, ensuring a seamless communication experience for seniors with hearing impairments.

Emergency SOS Button: Many senior-friendly phones have an emergency button that can be easily pressed to call for help in case of emergencies.

Speed Dial: A speed dial feature allows seniors to assign frequently called contacts to specific buttons for quick and easy calling.

Large Font and High Contrast: Choose a phone that offers customizable font sizes and high contrast themes to accommodate seniors with visual impairments.

Voice Assistant: Phones with built-in voice assistants, like Siri or Google Assistant, allow seniors to perform tasks using voice commands, which can be especially helpful for those with limited mobility.

Simple Text Messaging: Consider a phone with a straightforward text messaging app that supports predictive text and easy message composition.

Camera Quality: If the senior enjoys taking photos or video calls, a phone with a decent camera can be a bonus for staying connected with loved ones.

Long Battery Life: Phones with longer battery life reduce the frequency of charging, which can be beneficial for seniors who might forget to charge the device regularly.

Durability: Look for a phone that is sturdy and durable, as seniors may accidentally drop their phones more often.

Easy-to-Access Charging: A phone with a simple and easy-to-access charging port eliminates the need for complex cable connections.

Remote Assistance and Support: Some phones offer remote assistance features that allow caregivers or family members to help seniors troubleshoot issues or set up the phone remotely.

Affordability: Consider a phone that balances functionality with affordability to ensure that it meets the senior's needs without breaking the bank.

Compatibility with Medical Devices: If the senior uses medical devices that require smartphone connectivity, ensure that the chosen phone is compatible with those devices.

Optional Data Plans: If the senior wants to use the internet, email, or social media, ensure that the phone supports data plans or Wi-Fi connectivity.

Ultimately, the best phone for a senior will depend on their individual preferences and needs. It's a good idea to involve the senior in the decision-making process and consider any specific challenges they might face in using a cell phone comfortably.
Why are cell phones designed specifically for seniors?
Seniors need to communicate just like the rest of us, so it makes sense for them to require a cell phone that is adapted to their age. Manufacturers have recognized both the needs and challenges associated with old age, developing cell phones that are easy to use, yet have a wealth of useful features. As you will see below, seniors have the opportunity to choose a cell phone that serve its basic purpose, without too much pomp otherwise. However, manufacturers have realized that there are seniors who like to keep up with modern technology, creating new models with added capabilities. Health-wise, it is worth mentioning that many of these cells phones - whether simple or more complex - come with alert buttons and other health-related features.
Different types of cell phones for older adults available
Even though all cell phones have a bit of a learning curve, you have to be aware that there are different types available. The spectrum of available options ranges from simple models to modern-generation smartphones, so seniors always have a choice to make. In the end, it depends on your needs and how much you are interested in keeping up with technology. In terms of budget, it is also clear that the simpler models are more affordable, while the advanced ones will cost more. However, regardless of the chosen model, it is guaranteed that you will find a simplified plan that covers your communication demands.
What are the cell phone features for seniors to be on the lookout for?
It can be difficult to choose a particular cell phone, especially since there are so many options available. However, if you were to focus on the senior-friendly features, you would find it much easier to decide. Let's start with the large buttons, which guarantee enhanced usability. Whether these are located on a touchscreen or the phone comes with an actual keypad, seniors can benefit from their large size. They allow one to navigate through the menu effortlessly, not to mention type without worrying about making mistakes.

The clear display is another interesting feature. As many seniors are dealing with vision impairment, it makes sense for them to choose a phone that has a high-resolution display. Most cell phones allow for both the brightness and the font size to be adjusted as needed. Once again, as seniors might suffer from hearing impairment, it is essential for the cell phone to have quality speakers. The senior should hear the other person on the phone loud and clear. It is worth mentioning that many of the senior-friendly cell phones are also compatible with modern-generation hearing aids.

As the smart phone technology has advanced, new features have been introduced, many of which serve the needs of seniors. For instance, there are cell phones that allow for voice commands, so that one can set the desired reminders, send messages or make phone calls, and even look up information easily. This feature is useful for those who are dealing with dexterity issues or vision impairment as well. As for the actual plans, you will be happy to know that there are plenty of straightforward options available. By choosing a simplified plan, you won't have to worry about entering a long-term contract or dealing with hidden fees.

If you are the kind who likes to keep up with the latest technology, perhaps you might want to choose a cell phone that guarantees Alexa compatibility. By opting for a cell phone that has the Alexa feature, you might be able to use the voice commands for a lot of things, including to look up information, call contacts, send messages, or send reminders. For instance, you can request the address of a certain store, ask about the latest cinema showtimes, or even inquire about the weather forecast. You might also want to pay attention to the camera quality, not to mention other useful tools, such as the magnifier and flashlight.

The medical alert feature is another interesting option, recommended for those who are suffering from chronic conditions. There are cell phones that feature tactile buttons, with dedicated buttons for health emergencies (urgent response). By pressing on the red button, your phone will connect with the monitoring agent. The operator will confirm your location and alert the emergency service, should that be the case. Before committing to a particular plan, be sure to inquire about options features, such as the medication reminders or urgent response. As a general rule, these are usually available at extra cost. Providers might offer the purchase of safety features on a subscription basis.

A senior-friendly cell phone is an intuitive one. For instance, a good choice would be a cell phone that has a list-based menu. The home screen contains only the essential features you are using, such as the Internet, camera, messages, and phone. Both the call quality and respective volume should be suitable to a senior's level of hearing. Voice dialing and messaging remain important, as it can help seniors a lot to be able to send messages and make calls just by using their voice. By choosing a cell phone that has a quality camera, you will take amazing photos, but also use the phone to make video calls. If you are a fan of pen and paper, you might consider a cell phone that comes with a stylus.

The long battery life is another interesting feature, with senior-friendly cell phones lasting up to two weeks before needing a recharge. Smart capabilities are available for those who love technology, with some of the newer models allowing for app downloads. Aside from social media apps, seniors might download simple games, as well as weather, news, or stock apps. It is worth knowing that seniors can discover thousands of free apps, many of which might lead to them exploring new interests. Some of these apps are health-related; for instance, one can download a medication manager or an activity tracker. They might even have a mobile hotspot capability, should that represent a point of interest. To guarantee their long life, some models are water and dust resistant.
Cell phone carriers for seniors
T-Mobile is one of the carriers that has senior plans, being recommended to those who are over the age of 55. These plans are straightforward and have no hidden fees. However, you might benefit from unlimited data, text, and talk. Other providers that you should consider include Mint Mobile, Cricket Wireless, AT&T, and Verizon. If you are interested in affordable cellular providers, you might consider Mint Mobile. They have flexible plan options, without you having to commit to a long-term contract. If you are switching providers, you are allowed to keep your current phone number, which is great. Their plans are either for six or twelve months, and new customers always benefit from enticing discounts. Despite their affordable price, all the plans include unlimited data, text, and talk. Additional benefits include: no overage charges, 5G access, 30-day trials, and easy activation.

Cricket Wireless is a suitable option for seniors who are interested in a pre-paid cellular provider, with guaranteed high-speed data. They have both 4G LTE and 5G plans available, with unlimited data, text, and talk. Like the other provider, they do not require long-term contracts. Their unlimited plans are genuinely affordable and there are no overage charges to worry about. You can use their SIM card on your current phone, but they also have cell phones available for purchase at discounted prices.

AT&T has an unlimited plan for people over the age of 55, which also guarantees unlimited data, text, and talk. At the moment, this plan is available only in Florida. Seniors living in the other parts of the US might opt for other cellular plans, which are equally affordable. Given that AT&T is one of the largest cellular providers in the country, it should come as no surprise that seniors have access to various cell phones. Discounts are offered for multiple lines, and you won't have to worry about your data slowing down once the usage threshold has been surpassed. The limited availability remains the biggest downside to consider.

Verizon is another popular choice when it comes to senior phone plans, being known for its affordability. The plans offered guarantee unlimited data, text, and data. Verizon ensures amazing network coverage, being known for its speed. The senior cell plans do not require a long-term contract and one can cancel the service at any desired moment. As with AT&T, seniors can choose a cell phone that speaks to their needs, with options ranging from simple flip phones to modern-generation smartphones. Unfortunately, the senior plans are only available in Florida, so the limited availability might be something to remember.

Lively and Consumer Cellular are two of the best senior-specific phone carriers. Lively actually uses the network of Verizon, while Consumer Cellular relies on the networks of both T-Mobile and AT&T. For those who need health monitoring, Lively is the one to go with. Specialized features include the urgent response button, the possibility to connect medical alert devices, and the 24/7 access to medical personnel.
How to choose the best cell phone plan
As a senior, it can be difficult to choose a cell phone plan, especially if you are doing this for the first time. We have compiled a list of things to be on the lookout for, so as to make sure that you will choose the best possible option.

First and foremost, you should choose a plan that guarantees the nationwide coverage. In this way, you will be 100% certain that your phone works, so you will be covered in case of an emergency. This is the reason why it is recommended to go with a major wireless carrier, such as T-Mobile, AT&T, or Verizon. With regard to the best coverage plan, it seems that Verizon stands at the top of the list in terms of reliability and performance. They have different phone plans available, with unlimited data, text, and talk. As mentioned above, there is also a senior-specific plan available in Florida.

If you are planning on using your phone for video calls, game playing, or app downloading, you need to choose a phone plan that includes data. Be careful at the "unlimited data" promise, as many providers slow down your data plan once you have exceeded the mentioned threshold. Others perceive overage charges to the same purpose. Check the fine print to make sure that you are benefitting from unlimited data. There are also apps that you can use in order to determine the monthly data usage. T-Mobile, for instance, has several plans for seniors, all of which include unlimited data, text, and talk.

For seniors who are not interested in using a smartphone or the data mentioned above, but who like to text and talk regularly, there are other plans to be considered. Make sure to choose a plan that covers both the minutes and messages used each month. Providers have such plans available, with the talk and text only plans being genuinely affordable. You might even be able to pay annually for the respective plan, saving even more money in the process.

As for the price, you will be happy to know that most providers have affordable plans to offer, especially if you are only interested in talking and texting. You can opt for a basic package and add other features as desired. Consumer Cellular, for instance, has a lot of affordable cell phone plans for seniors. There are no activation fees to be covered and you are under no obligation to enter a long-term contract. Moreover, the provider is flexible, allowing you to change the plan at any moment, without any additional costs involved.

The ease of use is another thing to consider. Fortunately, there are wireless service providers that have plans especially designed for seniors, with the ease of use as a top priority. For example, Mint Mobile has a prepaid cell phone plan, which is both affordable and straightforward. The same goes for Lively, a provider which also offers senior-friendly phones, with useful features such as the hearing aid compatibility and the urgent response button. Advanced options might be available at extra cost, including Urgent Care, which connects the speaker to a registered nurse or doctor. The fall detection technology is also available with LivelyLink, with the phone automatically connecting to an operator, should a fall be detected.

If you are not sure what plan speaks to your needs the most, you should ask yourself some questions. First and foremost, do you enjoy talking on the phone for hours? Or are you rather the kind who prefers a brief check-in, whether it involves family members or friends? This can help you decide whether an unlimited plan is worth pursuing or not. Think of your traveling needs or if you have family living abroad that you would like to stay in touch with. Maybe you prefer smartphones, as they allow you to play games or watch videos. And what about video calls? These can only be made on a certain phone. Last, but not least, think about your budget and how much you would like to invest, in both the phone and the actual plan.

Once you have all the answers, it is time to think of the different options and choose the one that speaks to your needs the most. For instance, if you like to play games, stream content, and engage in video chats with family and friends, perhaps it might be for the best to choose a smartphone with an unlimited data plan.
What about the age limit?
Aging might bring a series of challenges, but it also comes with its benefits. More and more providers are offering plans and cell phones designed especially for seniors, allowing them to save money in the long run. Most companies have special offers for people over the age of 55, with plans that include unlimited data, text, and talk. As seen above, Verizon has designed a plan for seniors living in Florida, while AT&T has a senior nation plan that is recommended for seniors over the age of 65. Even though Lively does not have an age limit, it welcomes seniors, providing plans that include a multitude of health-related features, such as the urgent care and fall detection technology.
Switching the cell phone provider
For many seniors, switching the cell phone provider can be a daunting experience. There are numerous factors to be considered, including the current provider and the associated cell phone plan. Before committing to a new provider, it might be worth checking the contract, in order to determine if it includes early termination fees. You will also have to contact your provider, to make sure that you are able to keep the current phone and phone number. If you are locked into a plan, you might have to wait until the contract expires.

If you are planning on switching your cell phone provider, the first thing that you need to do is research your options. Check out the terms and conditions of your current contract, especially with regard to early termination fees. Should you like to keep your phone, you will have to determine whether it is locked or not. This means that you can only use the phone if you are sticking with the same provider and plan as before. Some providers might allow you to use the existing phone on another network, but this must be determined with each individual case.

The new wireless carrier will need you to provide certain information, including your name and address, your ESN/IMEI number (if you are keeping the phone), and your phone number (if you are keeping the number). In order to make the switch, you will have to contact the new carrier, either in person or by phone. After verifying your information, they will confirm the switch, with the new plan activated. Once the new plan is activated and your contract with the new carrier begins, the old service is automatically terminated.
Affordable cell phones for seniors
If you are under a tight budget, but you would still like a senior-friendly cell phone, you can research carriers like Lively, Mint Mobile, and Republic Wireless. Their plans start at just $15 a month and they have a wide array for affordable cell phone plans available. For those with limited financial resources, there is the option of applying for a free or deeply discounted cell phone and plan. This is achieved through the Lifeline Program, established by the Federal Communications Commission. The eligibility criteria can be found online, along the local Lifeline providers. Other carriers offer their own senior discounts, including AT&T, Verizon, T-Mobile, and Sprint, including for AARP members.

A good adjustable bed can help you rest comfortably at night, providing relief from chronic pain. As you have seen, modern-generation adjustable beds have a number of interesting features, such as the zero-gravity preset option, massage function, anti-snore elevation, wireless remote, USB port, and Bluetooth technology. Adjustable beds do not function with just any mattress, so you will have to do a thorough research first. The most important thing is that you choose a mattress that is both comfortable and sturdy, with a good price-to-quality ratio. Different brands offer adjustable beds, so you just take your time to search for the one that speaks to your needs the most. If you need further help, we would be more than pleased to help you. All you have to do is give us a call and we will provide all the information you might need to know on adjustable beds for seniors. This service is free-of-charge, and it can help you a lot, so do not hesitate to take advantage of it.

Finding the right cell phone can be challenging, but not impossible. As you have seen, there are certain features to be on the lookout for, including health-related. Carriers have cell phone plans with discounts for seniors, encouraging them to choose something that speaks to their needs. Senior-friendly features make using a cell phone easier, including the large keypad, bright screen, magnifier tool, hearing aid compatibility, and the easy-to-navigate home screen. Recommended cell phone carriers include Lively, Mint Mobile, T-Mobile, and others.


Products for seniors
Dental Services For Seniors Near Me
Medicare Supplement Insurance
Hearing Aids For Seniors
Adjustable Beds For Seniors
Medical Alert Systems For Seniors
Mobility Scooters For Seniors
Stair Lifts For Seniors
Walk-in Tub For Seniors
Electric Wheelchairs For Seniors
Indoor Exercise Bikes For Seniors
Lightweight Transport Wheelchairs
Post Surgery Pillows For Seniors
Best Walkers For Seniors
Best Stand Assist Devices For Seniors
Best Bed Rails For Seniors
Best Toilet Safety Rails For Seniors
Incontinence Diapers For Men
Incontinence Diapers For Women
Caregiver resources
Caregiving for seniors with Alzheimer's or dementia
Caregiving for elderly with diabetes
Caring for seniors with heart conditions
Caregiving for seniors post heart surgery
Caring for elderly with Parkinson's disease
Caring for seniors with limited mobility
How to care for seniors with vision loss